Master
Content
The Career Development Center offers a variety of platforms to connect with students to enhance your outreach and recruitment efforts. The following services and programs provide opportunities to reach the BCM community. To discuss activities that best meet your needs, please contact us at career.development@bcm.edu or 713-798-5043
Post Jobs
Post current job and internship announcements at your organization
Information Sessions
Introduce your organization by hosting an information and networking session
Job Shadow Program (Ph.D. Students)
Host a graduate student on-site at your organization. Through this program students have the opportunity to observe work environments firsthand and interact with various professionals to learn more about specific scientific career paths.

Annual Career Symposium
Sponsor a booth at this annual event and meet with students to discuss available opportunities at your organization
Career presentations
Facilitate (or co-present with Career Development Center) a session on a career-related topic such as interviewing or resume writing
Heading
Employer Info Sessions
Heading
Insight Data Science Fellows Program - Info Session
Content
Monday June 25, 2018
Presenter: Yan Kou, PhD, Director of Product at Insight Data Science
Are you a postdoctoral researcher, Ph.D. candidate, or quantitative undergraduate who is interested in transitioning into a career in industry? Do you want a job that leverages your quantitative experience in a fast-growing and in-demand field? Or are you simply curious about the potential path to the many career opportunities in industry? We invite you to gain a perspective on data science from leaders of Insight's Fellows Programs.

Insight is a seven-week training fellowship that helps scientists and engineers transition to careers in data science, engineering, artificial intelligence, and product management. Based in Silicon Valley, NYC, Boston, Seattle, and Toronto, the program enables scientists to learn the industry-specific skills needed to work in the growing fields related to big data at leading technology companies. View slides.
Heading
Perfecting Your Pitch: An Application Strategy Workshop for Biomedical Ph.D.s
Content
Thursday, May 3, 2018
Presenter: Heather Dillon, The Jackson Laboratory
During this interactive workshop, Ph.D. students and postdocs learned how to develop skills to effectively market themselves for postdoctoral or faculty positions at academic and non-profit research institutions. They were taught strategies for conducting a productive job search, how to best describe their accomplishments to prospective employers, and questions to ask before submitting an application. Participants also gained experience deciphering job descriptions and evaluating opportunities from a personal and professional perspective. Students and postdocs received tips and insights from professional recruiters at The Jackson Laboratory to help them find their ideal postdoctoral or faculty position.
View Presentation (Login Required)
Heading
Flagship Venture Labs Fellows Program – Info Session
Media Component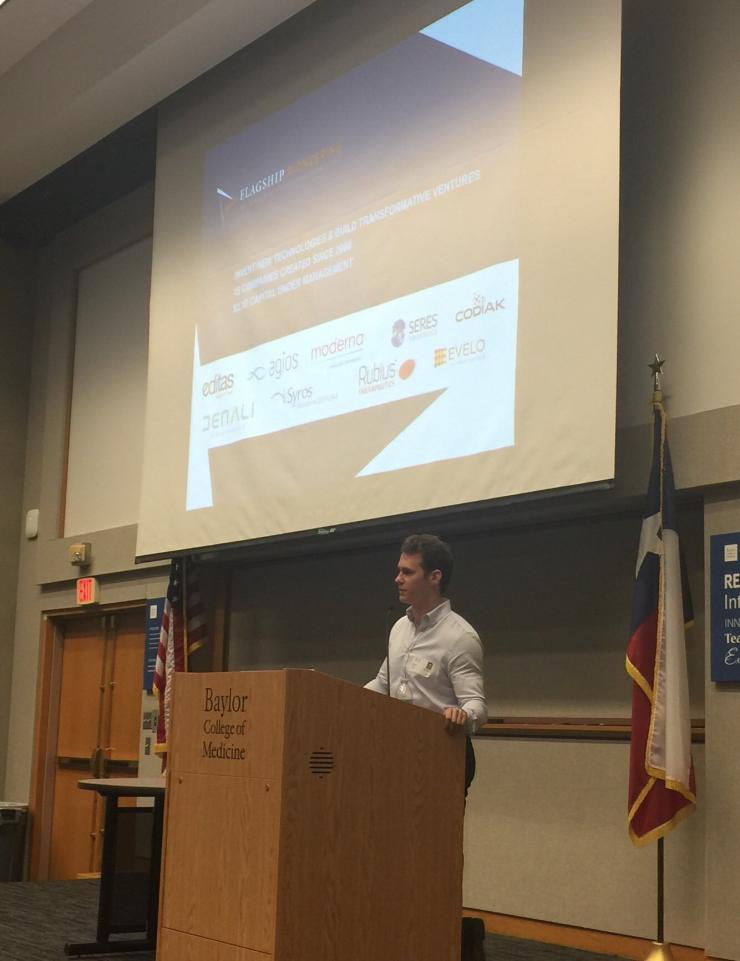 Content
Monday, March 19, 2018
Presenter: Dr. George Voren, Flagship Pioneering
Dr. Voren from Flagship Pioneering, a life science innovation and venture capital firm based in Cambridge, Mass., introduced Flagships biotech venture capital fellows program to Baylor College of Medicine's students and postdocs. They are currently accepting applications on a rolling basis and the fellowship takes place this summer from June 4 to Aug. 18 in Cambridge. All information on the fellowship and how to apply can be found here and at FlagshipPioneering.com.
Heading
Baylor Licensing Group Internship Program - Info Session
Media Component

Content
Friday, March 23, 2018
Presenter: Q. Andy Guo, Ph.D. (Director, BLG Internship Program, and a Licensing Manager)
Dr. Q. Andy Guo discussed the internship at Baylor Licensing Group and answered questions from students and postdoc about the program. He also spoke briefly about career opportunities for Ph.D.'s in Technology Transfer and commercialization. View slides.