Master
Heading
A Decade of Academia-Industry Joint Efforts in Developing a Human Norovirus Vaccine Candidate
Content
Norovirus infection, well known as the "stomach flu" or the "Winter Vomiting Disease," is the most common cause of acute gastroenteritis worldwide affecting 21 million Americans annually. Norovirus infection is characterized by the acute onset of nausea, vomiting, abdominal cramps, diarrhea, and occasionally fever.

Noroviruses are highly infective, easily transmitted, and difficult to contain. Extensive outbreaks occur regularly in community environments, posing a serious public health risk. The disease can be particularly severe in older adults and younger children. Each year up to 200,000 children under age 5 die worldwide as a result of norovirus disease. Currently, no commercial vaccine is available to prevent norovirus infection.

To address this critical yet unmet medical need, a decade-long fruitful partnership between Baylor College of Medicine and its industry partners has been devoted to norovirus vaccine development and has generated promising results in early phase clinical trials.
In the late 1980s, Dr. Mary K. Estes and her colleagues at Baylor were the first research group to identify the genetic sequence of the virus capsid protein. They developed a portfolio of novel methods and reagents that can be used to diagnose and prevent norovirus infection. The inventors disclosed the technology to Baylor Licensing Group in 1989 and a series of patent applications were subsequently filed to protect the intellectual property rights to ensure that the technology can be licensed to industry for next-step research and development.

The technology and patent rights in the vaccine field were initially licensed to a major pharmaceutical company in 1999, but the company's research and development priorities later changed and they decided to discontinue the gastroenteritis virus vaccine development program. The license was thus terminated and all rights to the technology were returned to BCM.
In 2004, LigoCyte Pharmaceuticals, Inc., a Bozeman, Mont.-based biotech company, saw promise in the Baylor technology and entered into an exclusive license agreement with the College for rights to intellectual property and technology related to the use of norovirus virus-like particles (VLPs) in a vaccine.

LigoCyte's first norovirus vaccine candidate was a needle-free, dry powder formulation based on VLPs, which are highly purified protein structures. By preserving the authentic conformation of the wild viral capsid, VLPs mimic the functional interactions of the wild live virus with the immune system, while lacking the ability to replicate, infect and cause illness. LigoCyte announced the first Phase-I clinical study of its investigational norovirus vaccine in 2007, followed by a randomized, double-blind, placebo-controlled, multicenter Phase-I/II trial, both of which represented pioneering clinical trials to develop a vaccine against an unusually challenging pathogen.

The clinical research was conducted in leading medical research institutions across the United States, including at Baylor's Department of Medicine infectious disease section. The development of a vaccine against norovirus is made challenging by the fact that the virus does not replicate in cultured cells, and there is no established animal model that mimics the effects of norovirus infection in humans. Results of the Phase-I/II trial were published in the New England Journal of Medicine in 2011, and the data demonstrated for the first time that vaccination could be an effective intervention against norovirus disease.
Takeda Pharmaceuticals, a leading research-based global pharmaceutical company headquartered in Japan, acquired LigoCyte and its norovirus vaccine program in 2012. Takeda continues to develop the VLP-based norovirus vaccine and conducted a Phase-1/2 study of a multivalent (GI/GII) norovirus vaccine candidate via intramuscular administration in healthy adult volunteers challenged with live genotype GII.4 norovirus, the most commonly occurring genotype.

In October 2013, the company announced the study results. Although the primary endpoint was not met, the data from this Phase 1/2 trial indicated the candidate vaccine was generally well-tolerated and reduced disease severity. These data support further investigation of a norovirus VLP vaccine in large field studies.
The continuing efforts to develop this norovirus vaccine candidate provide a great example of a technology that has emerged from a leading laboratory at the College to progress to commercial development and the clinical development needed for licensure. The development of the norovirus vaccine candidate is a representative example of the time and resource commitments necessary to translate an academic discovery into a commercially viable vaccine candidate, and the success of this multi-year endeavor requires a long-term strong relationship between the academic institution and its industry partners. When new areas of medicine are investigated, there are a number of questions that can be explored by a multidisciplinary team that combines the fundamental basic research knowledge of academic institutions and the commercial drug development knowledge, experience and funding of industrial partners.
As the norovirus story illustrates, the signing of a license agreement often marks the beginning of a long-term collaborative relationship.
Media Component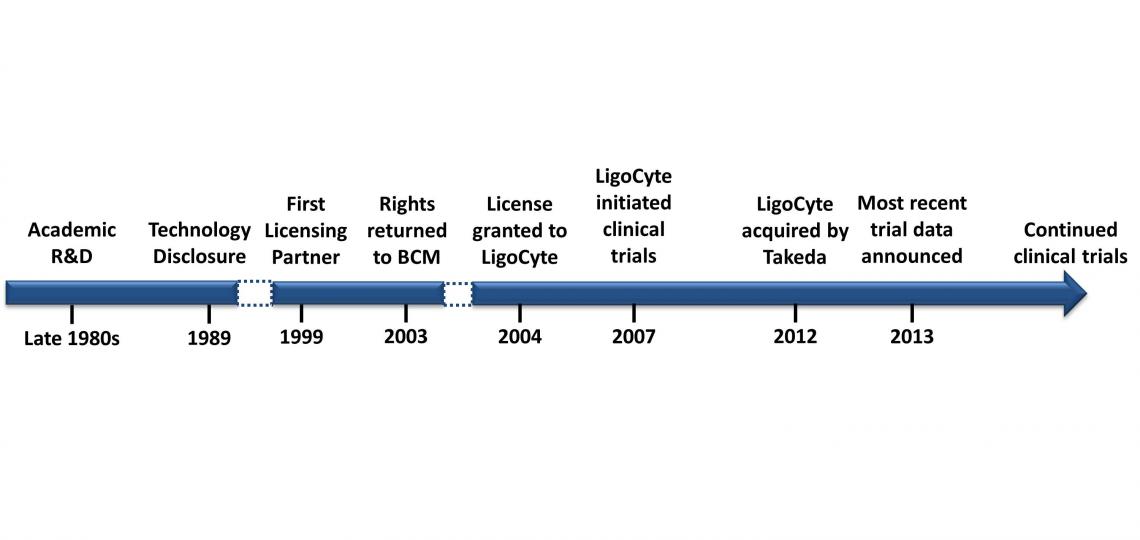 Heading
BLG Annual Report 2014
Content
View the FY'14 annual report pdf for information on the year in review, agreement highlights, profiles in innovation, and more.