Master
Heading
Patient Education Tools – Cervical Cancer
Media Component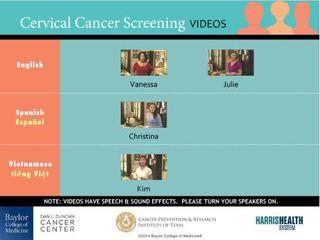 Content
These videos were developed by the Community Network for Cancer Prevention to educate patients about cervical cancer screening and to improve cervical cancer screening rates in the Harris Health System.
Patients in the Harris Health System who are eligible for a Pap test are identified by an alert from the health-maintenance module in the electronic medical record system. Eligible patients are given the opportunity to view a brief educational video about cervical cancer screening in English, Spanish, or Vietnamese before visiting with their physician. Each video, developed by the CNCP, is culturally and linguistically appropriate for African-American, white, Hispanic, and Vietnamese women.
Because the patient selects the video she prefers to watch, selection data can be used to analyze whether Pap test screening rates will improve, patient knowledge about cervical cancer screening will increase, and patient attitudes about cervical cancer screening will change.
All of the videos can be viewed online.