Master
Content
Welcome to the Baylor College of Medicine Pediatric Anesthesiology Fellowship Program!  Located in the heart of the largest medical center in the world and affiliated with one of the most renowned children's hospitals nationally, our fellowship offers unparalleled clinical volume and acuity with an engaged faculty and a supportive clinical environment.  With roughly 50,000 cases per year including the #1 rated heart center in the world, the pediatric anesthesia fellow can expect to become an expert in the care of complex neonatal and pediatric patients.
Our division is the largest single contributor to the Pediatric Regional Anesthesia Network database, with our fellows engaged in a robust regional educational experience.  Additionally, our large and diverse faculty is the largest contributor by volume to the Society for Pediatric Anesthesia annual educational meeting, with fellows participating in many posters and projects.
As the fourth largest city in the nation, Houston has an incredible food scene and is the most diverse large city in the nation.  The exposure to a wide variety of surgical cases coupled with a laid back attitude and Southern hospitality makes Texas Children's Hospital a remarkable place to develop as a pediatric anesthesiologist.
We are pleased to lead the fellowship and welcome your interest and application to our program!
Terms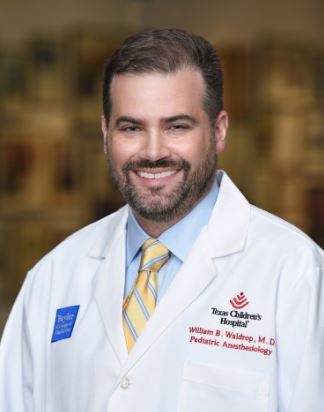 William Brent Waldrop, M.D.
Item Definition
Program Director, Director of Education Committee
Associate Professor of Pediatric Anesthesiology and Critical care Medicine
Content
Baylor faculty, staff, and trainees demonstrate our core values of respect, integrity, innovation, teamwork, and excellence every day.