Master
Media Component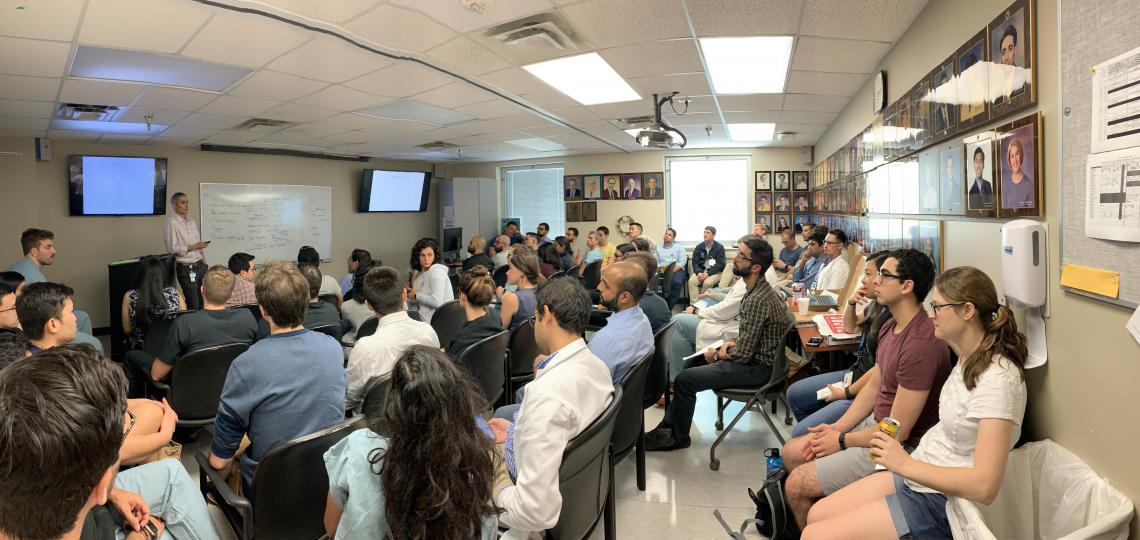 Content
The Internal Medicine Residency at Baylor College of Medicine is committed to training the best physicians in the country. At the core of our curriculum is rigorous clinical training at our diverse hospitals and clinics, with increased clinical responsibility, leadership, and teaching over the years:
PGY1 year: to build a strong foundation in internal medicine, interns spend approximately half of the year on general medicine wards teams; they also start exploring subspecialty interest with elective rotations and building continuity clinic panels in primary care clinic
PGY2 year: residents solidify inpatient general medicine skills by running wards teams (3 blocks), but spend much of the year on inpatient and outpatient electives, in addition to increased continuity clinic, critical care, and (if requested) research experience
PGY3 year: senior residents consolidate their patient care and teaching skills by leading wards teams (2 blocks), ICU teams (2 blocks), and general medicine consults (1 block); they also continue to enjoy flexible blocks for subspecialty rotations, continuity clinic, and fellowship / job application, finishing the year well-prepared for the next step in their careers
For more rotation details, see our dedicated track pages:
Content
In addition to the clinical training that takes place on general medicine and subspecialty inpatient and outpatient rotations, our program offers the following additional curricular elements:
Resident-led morning report daily at each hospital
Noon conference daily at each hospital according to our year-long curriculum
Department of Medicine Grand Rounds weekly
Wednesday School (academic day that includes ambulatory didactics, QI projects, High Value Care seminars, journal clubs, and resident-as-teacher workshops plus simulation sessions and procedure training) every other block
Content
Each resident works on-on-one with a dedicated faculty advisor from the program leadership group or core educational faculty. Residents meet at least twice per year with advisors to review milestone-based evaluations, discuss career planning, and develop goals. Faculty advisors link residents with other mentors, including those in the trainees future career specialty. Visit our Fellowship and Careers page for more details on post-residency planning.
Heading
Innovative Educational Programs
Content
The Internal Medicine Residency at BCM is known for its educational innovations, with many initiatives having been shared across the country via publications and national presentations & workshops. Our innovations include the following:•
Media Component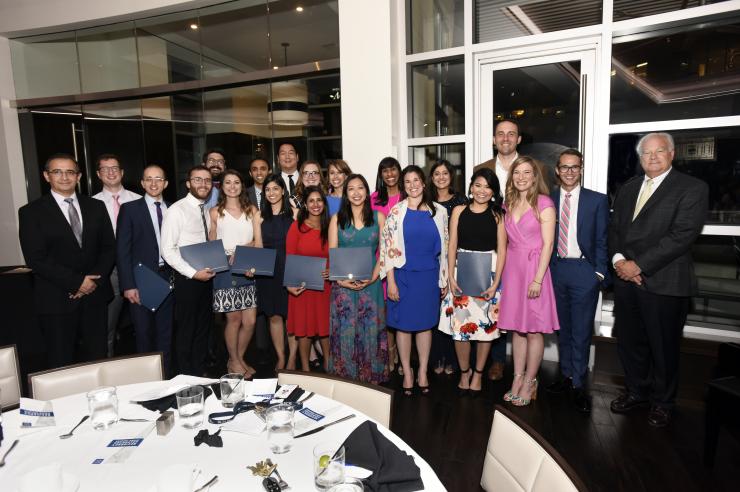 Content
Distinguished Educator Pathway: all residents interested teaching may participate in the Academy of Resident Educator curriculum and earn a certificate of distinction in medical education by the end of residency training.
Intern Bootcamp: annual day-long event during intern orientation in which PGY1s discuss common clinical scenarios one-on-one with a resident or faculty facilitator, practice safe patient handoffs, and review core skills such as calling consults, writing notes, and developing life-long learning habits during residency.
Media Component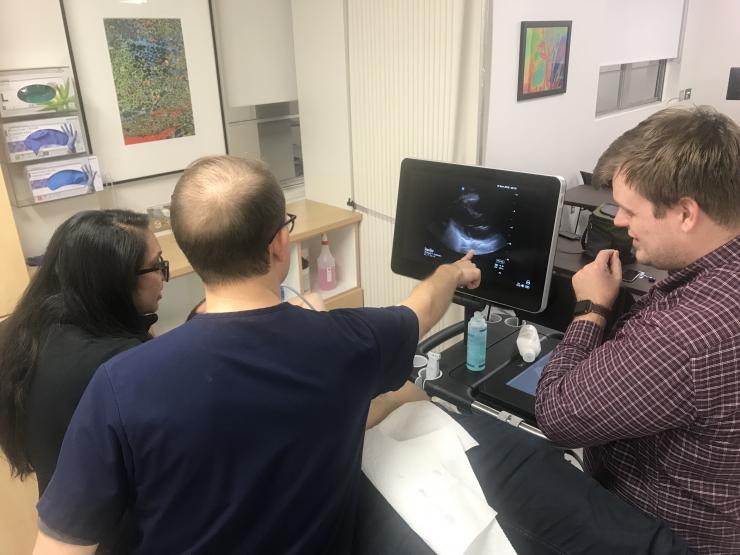 Content
Longitudinal Point-of-Care Ultrasound (POCUS) Curriculum: year-long course that uses independent study, faculty-led didactics, and small group skills practice sessions to teach internal medicine-focused POCUS skills.
Wednesday School: academic half-day that each resident experiences every two months with a varied curriculum that includes clinical didactics, resident-as-teacher workshops, clinical reasoning sessions, reflection and self-care skills, and many other areas.
Media Component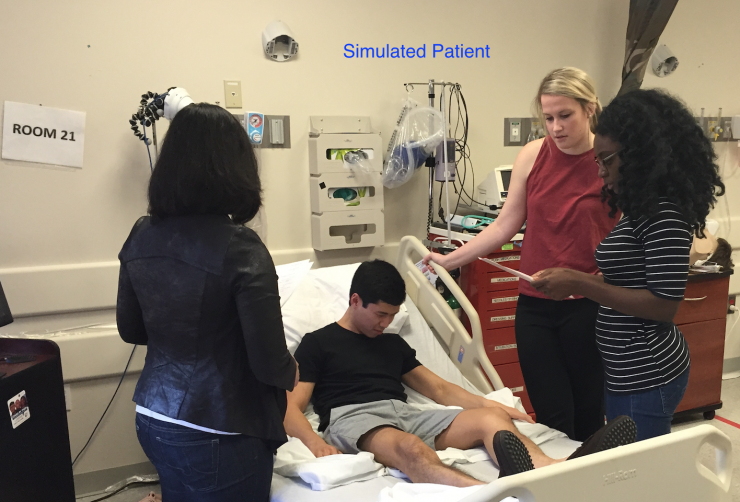 Content
Clinical Simulation & Procedure: at the state-of-the-art simulation lab at MD Anderson Cancer Center, residents spend Wednesday School afternoons participating in rapid-response simulation scenarios and practicing procedure and ultrasound skills.
Upper Level Boot Camp: annual half-day of workshops that take place during Wednesday School for end-of-year PGY1s to prepare them for clinical leadership and team management roles as an upper level resident.
Cardiology Boot Camp: In collaboration with the Texas Heart Institute, BCM cardiology faculty & fellows lead this annual day-long workshop to teach interested residents important cardiology topics, such as Hemodynamics 101 or Intro to the Cath Lab.
Heading
Quality Improvement and Patient Safety Curriculum
Content
Baylor College of Medicine Internal Medicine Residency Program places great emphasis on quality improvement and patient safety training, exceeding the requirements set forth by ACGME. The Internal Medicine Program hosts a comprehensive Quality Improvement (QI) curriculum, which includes a longitudinal course for PGY-2 residents based on the IHI Model for Improvement and Lean principles. PGY2 and PGY3 residents lead educational conferences on high-value care and patient safety. All residents participate in a QI project at our teaching hospitals. These award-wining resident projects have been presented at local, regional, and national level. Additionally, residents attend hospital committees that focus on systems-based practices including, Patient Safety, Quality Review, and Patient Flow. Residents may also choose to do a QI project as part of a month-long research elective. 
For residents interested in pursuing quality improvement as a career, Baylor College of Medicine offers positions for Chief Residents in Quality and Patient Safety (CRQS) at the Michael E. DeBakey VA Medical Center. 
 
Heading
Education in COVID-19 Era
Media Component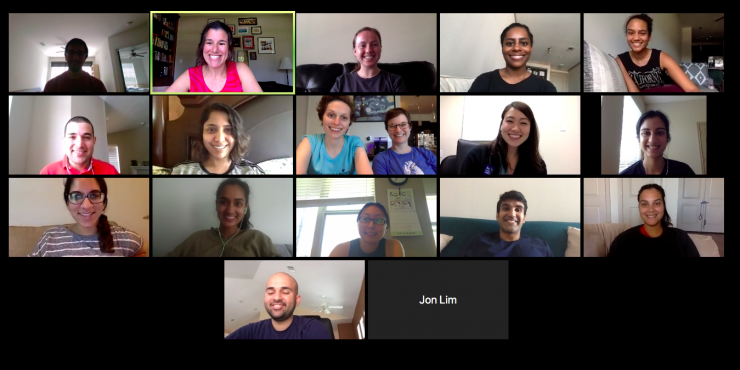 Content
During the COVID-19 pandemic, we have used social distancing to innovate the ways we deliver medical education in our program. Here are examples of how our chief residents, core faculty, and residents have continued to teach and learn on virtual platforms:
Residents and faculty from all of our clinical pavilions sign on to the same Zoom Virtual Morning Report (VMR) at 8:30 a.m. daily. Residents present prepared teaching cases while our chief residents facilitate out-loud and chat-based discussions with residents and faculty members. 
 
Noon conference daily at each hospital according to our year-long curriculum
 
Town Halls with the Program Director and Chief Residents take place weekly on Zoom to keep residents up-to-date on program changes due to the pandemic
 
Clinical decision-making simulation continues on Zoom, with our Chief Resident and resident facilitators using our core curriculum cases to take interns through common bedside scenarios.
Heading
Virtual Morning Report
Content
Throughout the COVID-19 pandemic, we have been virtual morning report (VMR) at the Baylor College of Medicine Internal Medicine Residency. This daily educational conference features residents doing case-based teaching to highlight clinical reasoning and therapeutic decision-making. Residents, students, and faculty across our clinical pavilions sign on for a live in-person and chat-based discussion. In this VMR from July 2020, one of our fantastic PGY3 residents shares a case while our chief residents facilitate.
Heading
Virtual Intern Case Simulation
Content
During the COVID-19 pandemic, we have been running our clinical simulation program for Baylor Internal Medicine interns virtually in lieu of in-person sessions at our simulation labs. Using our standard curriculum of rapid response cases, an upper level resident role plays a nurse (upper left corner) who updates interns (bottom row) evaluating an acutely ill patient played by another upper level resident (upper right corner).