Master
Content
2021
June 11 - The new Organoid Core Lab of Drs. Mary Estes and Sarah Blutt was featured in Dr. Paul Klotman's weekly video. 
June 10 - Drs. Robert Britton, Anthony Maresso, and Katherine Lemon received a $12 million grant from the NIH to identify non-antibiotic strategies to prevent and treat bacterial infections 
May 13 - Baylor College of Medicine will serve as the lead site of the new Texas Development Center for AIDS Research (D-CFAR). Funded through a grant from the NIH, D-CFAR is a collaboration of Baylor, The University of Texas Health Science Center at Houston and the Texas Biomedical Research Institute in San Antonio. Dr. Andrew Rice is the co-director for Baylor and the director of the D-CFAR Developmental Core.
April 26 -  Biological E. Limited to begin Phase III clinical trials of a COVID-19 vaccine candidate developed by a team co-led by Drs. Maria Elena Bottazzi and Peter Hotez. 
March 30 - An article in "From the "Labs" describes the work of a group led by Dr. Anthony Maresso in using phages to prevent infection before it happen.
March 23 - Drs. Peter Hotez, Pedro Piedra, Robert Atmar and Hana El Sahly were among a panel of experts that answered questions and provided reflections on a year of COVID-19.
Three MVM faculty members, Drs. Hana El Sahly, Joseph Petrosino, and Mary Estes were ranked in the top 20 of NIH-funded investigators at Baylor based on award amounts for 2020.
March 8 - Dr. Robert Atmar commented on the more contagious COVID variant spreading in Houston for local media.
Feb. 11 - Dr. Hana El Sahly provided advice on what you need to know after getting the COVID-19 vaccine.
Feb. 9 - Dr. Anthony Maresso and colleagues have identified a novel strategy using phage to anticipate the location of bacteria providing a mechanism to eliminate bacteria prior to infection.
Feb. 4 - Drs. Pedro A. Piedra, Brian Gilbert, Lynn Zechiedrich, and colleagues have reported that the duration of the antibody response varies in adults with RSV.
Feb. 1 - Dr. Kristen Engevik, postdoctoral associate in Dr. Joseph Hyser's lab, was the winner of the American Journal of Physiology "Cell-ebrating HeLa" competition with this image of immunofluorescent HeLa cells. 
Jan. 15 - The Vaccine and Treatment Evaluation Unit has been selected to participate in the Phase 3 clinical trial to evaluate the safety and effectiveness of Novavax's COVID-19 vaccine candidate. Dr. Jennifer Whitaker is a co-principal investigator of the Baylor site.
Jan. 7 - Dr. Joseph Petrosino discussed the implications for Houston of the more contagious COVID-19 strain, originally detected in the United Kingdom, in an article in the Houston Chronicle.
2020
Dec. 24 - In a podcast, Dr. Hana El Sahly, a lead investigator for the Moderna COVID-19 vaccine phase 3 trial, explains the COVID-19 RNA vaccines, including how they work, the differences between the Pfizer and Moderna vaccines, and why wearing masks is still necessary.
Dec. 14 - Dr. Pedro Piedra commented on an antibody test survey conducted by Baylor, in partnership with the Houston Health Department, Rice University, and the CDC, showing that the number of Houstonians who have been infected with the COVID-19 virus could be four times higher than previously reported.
Dec. 8 - Dr. Joseph Hyser and colleagues discovered aberrant calcium dynamics in both infected and uninfected cells, explaining how a few rotavirus can cause severe gastrointestinal disease.
Dec. 3 The career and research of Dr. Pedro A. Piedra were highlighted in an interview as part of the BCM Hispanic Heritage Spotlight series.
Nov. 16 - Dr. Hana El Sahly, a leader of the phase 3 trial of the COVID-19 vaccine developed by Moderna, was interviewed by multiple media outlets, including NBC News and the Houston Chronicle.
Oct. 6 - Dr. Susan Rosenberg was awarded the National Institutes of Health Director's Pioneer Award, her second time winning the prestigious honor. 
Sept. 24 - Dr. Anthony Maresso and colleagues, in partnership with the Houston Health Department and Rice University, have determined that testing Houston's wastewater for SARS-CoV2 provides a means to predict an outbreak.
Sept. 22 - A study by Dr. Mary Estes and colleagues showed that not all human norovirus strains are created equal in their sensitivity to interferon.
Sept. 18 - Dr. Sarah Blutt and her group were one of two Baylor teams among five selected by the Translational Research Institute for Space Health to receive funding for their project entitled "Use of Microbial Based Countermeasures to Mitigate Radiation Induced Intestinal Damage."
Sept. 3 - Dr. Pedro Piedra discussed the start of a COVID-19 antibody survey to determine the prevalence of people who have been infected with the virus in Houston with local media.
Sept. 2 - A pair of articles (and here) in the Houston Chronicle describes the work  Dr. Anthony Maresso and others in analyzing Houston wastewater to detect COVID-19 hot spots.
The Vaccine and Treatment Evaluation Unit at BCM, headed by Dr. Hana El Sahly, was one of approximately 90 sites selected to participate in the Phase 3 clinical trial for Moderna's investigational mRNA-1273 vaccine to evaluate the efficacy of the vaccine at preventing COVID-19 disease. Dr. El Sahly also serves as a national co-principal investigator of the trial.
Aug. 11 - Dr. Paul Ling's research on Elephant Endotheliotropic Herpesvirus was featured in an article about the death of African elephants at the Indianapolis Zoo.
July, 7 - In an interview with the Houston Chronicle, Dr. Joseph Petrosino provided insight into what a potentially more contagious strain of COVID-19 means for the Houston area.
July 2, 2020 - Dr. Lynn Zechiedrich was featured in a United Nations Foundation music video in support of its COVID-19 Solidarity Response Fund for the World Health Organization.
A study of a slow-growing rotavirus mutant by Dr. Mary Estes and colleagues revealed early steps of viral assembly.
April 28 - Development of a vaccine for SARS-CoV-2 is underway, co-led by Dr. Maria Elena Bottazzi and Dr. Peter Hotez, building on their experience gained through work on a SARS vaccine.
April 23 - A team led by the labs of Dr. B. V. Venkataram Prasad and Dr. Mary K. Estes determined the structure of the rotavirus VP3 protein, revealing that VP3 is a unique capping machine.
Dr. Lynn Zechiedrich was honored on Faculty Awards Day as a 2020 recipient of the Barbara and Corbin J. Robertson Jr. Presidential Award for Excellence in Education.
Dr. Andrew Rice was awarded one of nine grants from BCM and the University of Houston, as part of a pilot program resulting from a 2019 Memorandum of Understanding between the two institutions for a project called "Discovery of pharmacological modulators for NEAT1 IncRNA and reactivation of latent HIV-1.", along with UH collaborator Dr. Qin Feng.
Dr. Buck Samuel served as an International Teaching Program Fellow at Tel Aviv University, teaching a course on the Microbiome in Health and Disease.
Viral gastroenteritis around the world causes 200,000 deaths globally each year. Mary Estes talks about her work on two gastroenteritis-causing viruses, rotavirus and norovirus, and tells the story of her discovery of the first viral enterotoxin. She also describes how noroviruses have changed from human volunteer studies to studies using "miniguts," a system now used with many enteropathogenic microorganisms.
Dr. Paul Ling discusses his research on Elephant Endotheliotropic Herpesvirus in a video episode of the International Elephant Foundation's "Ask a Conservationist" series.
In a podcast episode of Pachy Chat, Dr. Paul Ling discusses his research on Elephant Endotheliotropic Herpesvirus. 
Jan. 28 - Dr. Mary Estes and colleagues describe findings that shed light on the role of bile acids in stimulating norovirus infection.
2019
The Vaccine and Treatment Evaluation Unit (VTEU) has received a seven-year renewal grant from the National Institutes of Health and will join the new Infectious Diseases Clinical Research Consortium. Baylor's unit is led by Dr. Hana El Sahly. Dr. Robert Atmar is a member of the newly formed executive management team.
Dec. 19 - An analysis of samples available through the TEDDY study, by a team of investigators including Dr. Richard Lloyd, has revealed unexpected viral behavior linked to type 1 diabetes in high-risk children.
Dr. Qizhi Cathy Yao was elected a Fellow of the National Academy of Inventors. 
Nov. 12 - Dr. Joseph Hyser and colleagues reported that Tulane virus, a model system for human noroviruses, takes over cellular calcium signaling to replicate.    
Dr. Anthony Maresso recently published the textbook "Bacterial Virulence: A Conceptual Primer". 
Dr. Mary Estes was honored with a 2020 Lifetime Achievement Award from the American Academy of Microbiology for sustained contributions to the microbiological sciences. 
Aug. 15 - A team led by Dr. Larry Donehower conducted the most comprehensive study of TP53 mutations to better understand the processes leading to the inactivation of this important tumor suppressor gene.
Co-principal investigators Drs. Joseph Petrosino and Richard Gibbs were awarded a grant of up to $19.5 million from the NIH Genomic Centers of Infectious Diseases Program to study mucosal infection through the use of genomics and organoid model systems.
A Houston Chronicle article credits Dr. Paul Ling with helping to save one of the Houston Zoo's baby elephants suffering from an illness caused by elephant endotheliotropic herpesvirus.
Dr. Robert Britton has been selected as a recipient of the 2019 Michael E. DeBakey Excellence in Research Award.
2018
In celebration of Woman's History Month, BCM highlights the research of Baylor Women of Science, including the work of Drs. Janet Butel, Mary Estes, and Rebecca Rico-Hesse.
Dr. James Collins was selected as a Texas Medical Center Digestive Disease Center 2019 Pilot/Feasibility Awardee for his research proposal titled "Adaptation and Spread of VRE".
As part of BCM's "Ask Me About My Research" series, Dr. Paul Ling describes his work on herpesvirus in elephants to a young guest.
Dr. Mary K. Estes was one of 148 renowned academic inventors named fellows of the National Academy of Inventors.
Drs. Mary K. Estes, Jeanette M. Criglar, B V Venkataram Prasad and colleagues have discovered that a cellular protein called CK1α is required to assemble rotavirus factories. See Image of the Month: Assembling a rotavirus factory.
A study by Drs. Sasirekha Ramani, Mary K. Estes, and colleagues showed that sugars in mother's milk influence neonatal rotavirus infection.
Dr. Lawrence Donehower and colleagues have shown that the PPM1D gene can confer blood cells exposed to the chemotherapy agent cisplatin a survival advantage that might favor the development of leukemia years later.
Dr. Joseph Petrosino and colleagues have identified distinct stages in infant microbiome development. Published in the journal Nature, their results are based on extensive analysis of data collected from a cohort of participants involved in the TEDDY diabetes study (The Environmental Determinants of Diabetes in the Young).
Dr. Betty Slagle and her team have been awarded one of the first grants from Baylor for precision medicine and population health topics for the project "Human liver organoid infection model for hepatitis B virus."
Research by Dr. Gretchen Diehl and colleagues reveals how the intestinal microbiota interact with the immune system to limit a damaging inflammatory response.
A study by Dr. Rebecca Rico-Hesse and colleagues showed that mosquito saliva alone can induce a diverse and complex immune response.
Dr. Margaret Conner was a guest scientist on a segment of the NPR program Science Friday about the relationship between immunoglobulin A and the microbiome.
Research on a universal flu vaccine, led by Dr. Robert Atmar, was featured in Scientific American.
Dr. Buck Samuel was an invited participant in the strategic planning initiative for the Genetics Society of America.
Dr. Susan Marriott was quoted in a CNN article that describes strategies and challenges in responding to a call to eradicate HTLV-1.
Dr. Peter Hotez has been elected to the American Academy of Arts and Sciences, one of the nation's most prestigious honorary titles.
Dr. Paul Ling and colleagues identified T cell immune responses directed against elephant endotheliotropic herpesvirus, which could lead to the development of an effective vaccine for this deadly disease.
Dr. Lynn Zechiedrich gave a presentation at the annual meeting of the National Academy of Inventors in Washington D.C. where she was inducted as a 2017 Fellow.
Dr. Robert Britton was featured in a New York Times article about the role of the processed food additive trehalose in cultivating the growth of more virulent strains of Clostridium difficile.
Years of basic research on rotavirus and vaccine candidate virus-like particles by Dr. Mary Estes, Dr. Sue Crawford, Dr. Margaret E. Conner, Dr. Sarah E. Blutt and other leads to a licensing agreement with ImmuCell and the development of a product to protect newborn calves from the diarrhea-causing disease.
Media Component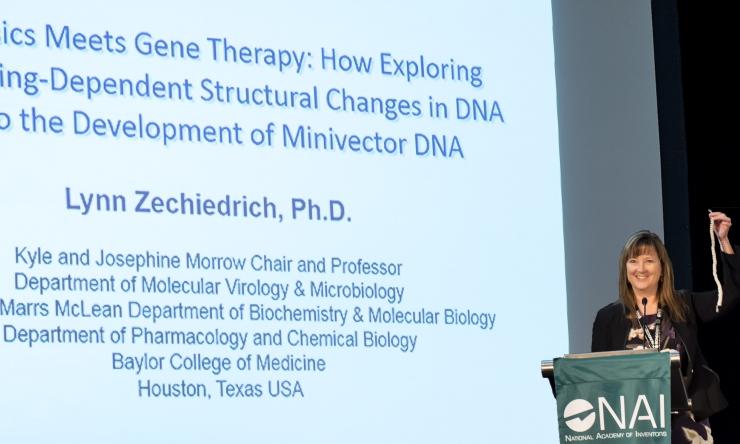 Content
Lynn Zechiedrich talks to the National Academy of Inventors at her induction to the organization.
Media Component
Credit
Copyright © American Society for Microbiology, J Virol 92:6, 2018. Stephanie Adams, Houston Zoo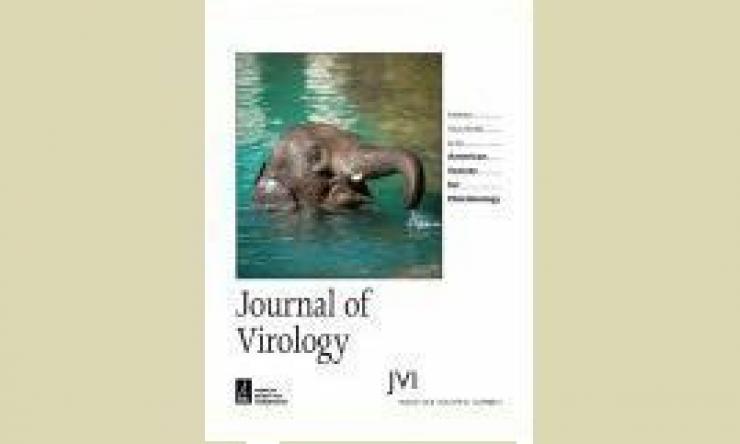 Content
Baylor, the elephant, on Journal of Virology's March 2018 cover, an issue that describes work by Dr. Paul Ling in identifying potential vaccine candidates for elephant endotheliotropic herpesvirus in collaboration with the Houston Zoo.