Master
Media Component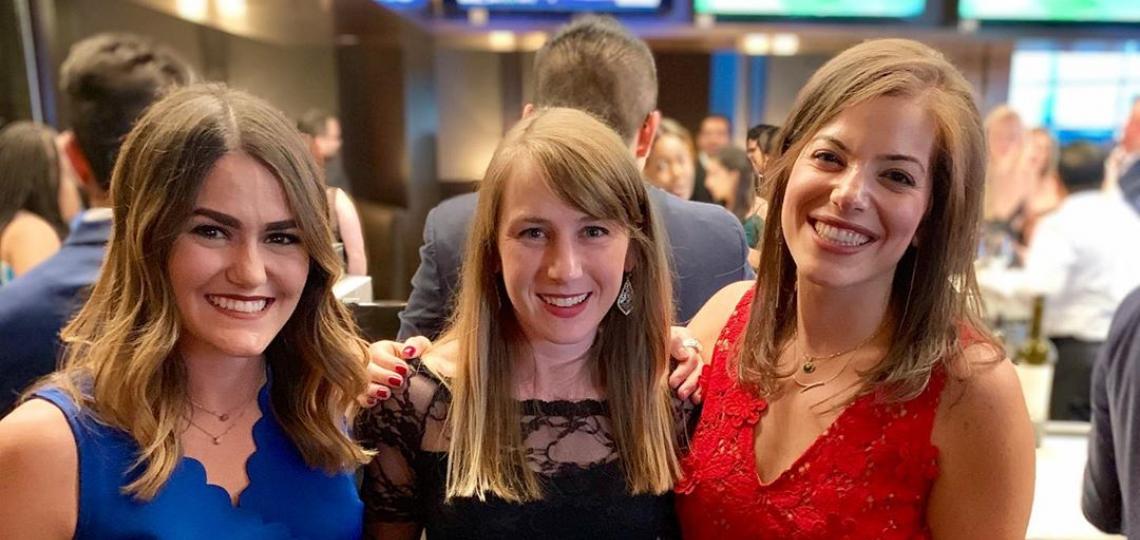 Content
Pictured from left: Brooke Thigpen, M.D., Emily Bowden, M.D., Riwa Sabbagh, M.D.
Content
Thank you for visiting our website and your interest in our program. Our goal is to give you a brief introduction to our residency program and what makes it so unique. Our residents train in the Texas Medical Center, the world's largest medical complex, which includes some of the most renowned centers for diverse, innovative and cutting-edge medical care. TMC has 54 medicine-related institutions, including 21 hospitals, eight specialty institutions, eight academic and research institutions, 4 affiliated medical schools, all located within the medical district in south-central Houston. TMC delivers one baby every 20 minutes resulting in over 25,000 babies delivered per year. We rotate through five major hospitals throughout our residency training. We are proud to say that our program has recruited residents from all over the globe. We strongly believe that a collection of diverse backgrounds makes a residency stronger and promotes better patient care.
By rotating through a variety of different hospitals, our residents obtain excellent GYN surgical experience from both public and private settings. We also work and operate with an array of gynecological subspecialties including Female Pelvic Medicine and Reconstructive Surgery, Gynecologic Oncology, Pediatric and Adolescent Gynecology, Minimally Invasive Gynecology, and Reproductive Endocrinology and Infertility Specialists. The high acuity and volume of patients seen presenting to our facilities enables us to routinely care for medically complex patients both on labor and delivery and in gynecology. Our residents now also do one off service rotation in the surgical ICU during their PGY-2 year to enhance their understanding of critically ill patients. Residents also get an elective rotation during their PGY-3 year where they can do an away rotation, perform research, or travel internationally to Malawi and gain experience with surgical mission work.
We are also provided with protected weekly didactic sessions that are tailored to teaching relevant material to supplement our clinical knowledge and prepare us for board examinations. Academic and clinical excellence is expected from our graduates. We prepare for, complete and pass the FLS exam necessary for ABOG board certification by the PGY-2 Residents also routinely present cases during monthly M&M conferences, and weekly at preop conference, Tumor Board, and multidisciplinary meetings to coordinate high risk obstetric patient care. The intern class also attends weekly lectures on Friday mornings for the first six months of the year that are given by the PGY-4 class.
Our department offers an array of clinical and basic science research opportunities. Each year, several of our residents attend national meetings including SMFM, ACOG, AAGL, and SREI to present abstracts, videos, and papers. Funding from the department is available to ensure residents are able to present their important work.
Houston, Texas is the 4th largest city in the United States and has been described as a city where urban chic meets southern hospitality. Houston is the home to a wonderful mix of world class arts, booming businesses, award winning cuisine, and professional sports. Despite being a metropolitan area, Houston boasts more than 600 hectares of green space in the city. Some residents buy homes in the surrounding neighborhoods, while others prefer apartments or town homes located within minutes from the Texas Medical Center. Whatever your interest may be, you can definitely find it in Houston.
At the completion of training, Baylor residents are well-prepared for the challenges that come with practicing obstetrics and gynecology. Some graduates pursue fellowship training and academic careers while others enter private practice. Baylor has affiliated fellowships in maternal fetal medicine, minimally invasive gynecology, pediatric and adolescent gynecology, perinatal surgery, global women's health, and reproductive endocrinology and infertility. With the support and education provided at Baylor, the possibilities after graduation are endless.
We are excited about the opportunity to help you learn more about our program and invite you to reach out with any questions you may have. We understand that this interview season will be challenging with the ongoing pandemic. We wish you the best of luck and stay safe!
Obstetrics & Gynecology Chief Residents
Brooke Thigpen, M.D.
Emily Bowden, M.D.
Riwa Sabbagh, M.D.