Master
Media Component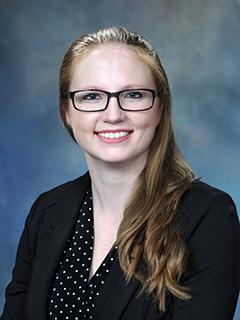 Content
What is your favorite memory from residency? 
The Texas Society of Pathologists meeting during my first year. About ten of my co-residents and I were there and after we had presented our research, we all hung out by the bonfire outside and talked and laughed and I realized how wonderful they were and how lucky I was to have them.
Why did you choose pathology?
I have always been fascinated with the "why" of it all and pathology gives me the opportunity to explore that. It is mentally challenging but also fulfilling when you make the correct diagnosis for the patient, especially when that diagnosis is challenging.
What drew you to the BCM Department of Pathology & Immunology?
The residents! And amazing faculty. You will get good pathology training in probably any large program like BCM where you are exposed to a lot of specimens and cases; but I really felt at home here. I was a medical student at BCM and had done a few electives and had gotten to know a lot of the wonderful residents and faculty – they were people I was happy about spending the next four years working with, so that's one of the main reasons I ranked BCM #1.
What's your favorite thing and/or spot in Houston?
The food! Houston has great food – Tamashi Ramen and Sushi, M&M Grill (Yes that's Mexican and Mediterranean Grill, weird but delicious combo), Bollo Pizza, Torchy's Tacos, The Pit Room (BBQ) are all within ten minutes of me. I love the variety of food that Houston has to offer.
What is one new thing you started in residency that you hadn't done before? 
Research. I wasn't involved in much research in medical school but since the start of residency I have been able to be involved in a few projects. These projects have been challenging and fulfilling at times and have taught me a lot about pathology and about myself. They have also allowed me to attend conferences around the country and meet colleagues from different programs and specialties.
What is your favorite tumor histology and why?
Cylindroma – I have always loved puzzles, who knew you could find them under the scope too!