Master
Content
The Baylor College of Medicine Child Neurology and Neurodevelopmental Disabilities Residency Programs take full advantage of the tremendous educational resources available in the Texas Medical Center with resident rotation opportunities at selected sites within the Medical Center. While Child Neurology Training is principally based at Texas Children's Hospital, residents have inpatient adult neurology rotations at Baylor St. Luke's Medical Center, Ben Taub Hospital, and Michael E. DeBakey VA Medical Center. The yearly outpatient curriculum is divided into 13 blocks.
Neurodevelopmental Disabilities training is similar to the child neurology program but with critical NDD specific rotations incorporated throughout training. Rotations in developmental and behavioral pediatrics are primarily located in the Texas Children's Hospital's Meyer Center for Development and Autism Center. In the following sections, the NDD schedule for each year of training is listed below the Child Neurology schedule demonstrating the incorporation of various NDD-specific rotations. NDD training includes 12 months adult neurology, 18 months clinical training in child neurology (with the same inpatient rotations as child neurology residents) and neurodevelopmental disabilities, and 18 months of clinical and basic science education. Please refer also to the Development and Behavioral Pediatrics program information given the close training relationship between NDD and DBP.
View Rotations and Call Schedule
Heading
Inpatient Services at Texas Children's Hospital
Content
Inpatient services at Texas Children's Hospital include the Primary Neurology Service, Consult Service, ICU Consult Service, and Neurocritical Care Service.
Primary Neurology Service: This service is composed of a second and first-year Child Neurology or NDD resident along with a Categorical Pediatrics intern, which include Child Neurology and NDD interns. Child Neurology faculty attend the service with daily rounds. Patients admitted to this service have primary neurological conditions as the reason for their admission and do not require the neurocritical care unit. Examples include seizures, stroke, autoimmune encephalitis, demyelinating disorders, and status migrainosis along with many others. The service allows residents to develop leadership skills in directing the team and in providing comprehensive care for patients with neurological disorders. Residents acquire skills in this rotation to include primary assessment of acute neurological disease, EEG and neuroimaging analysis, and diagnostic lumbar puncture. In addition, residents achieve a better understanding of the systems of care within the Hospital through a family-centered approach in collaboration with other consulted services, social workers, nursing staff, and case managers. 
Neurology Consult Service: This service is composed of a second year Child Neurology or NDD Resident, an Adult Neurology Resident, and a Categorical Pediatrics Resident along with a Child Neurology Faculty member. The team provides consult services to the Emergency Center as well as all other regular floors of the hospital and the Neonatal ICU. Typical consultations include conditions related to neurological emergencies presenting to the Emergency Center, neuro-oncology consults, and co-morbid neurological conditions in patients admitted to other specialty services or the general hospitalist service.
Neurocritical Care and ICU Consult Service: This service includes a second-year Child Neurology or NDD Resident and an adult Neurology Resident along with a Child Neurology Faculty with specialty expertise in neurocritical care. The team provides consultation services to the general pediatric ICU, the cardiovascular ICU, and the neurocritical care ICU. The neurocritical care unit at Texas Children's Hospital is the first such unit in the United States specifically designed to provide state-of-the-art neurological monitoring and care for pediatric patients with neurological illness. Along with two blocks of ICU Consults, Child Neurology and NDD Residents have one block of consultation in the Neurocritical Care Unit allowing for a focused educational experience working with neurocritical care faculty to provide consultation to the primary team on children admitted to this unit.
Heading
Outpatient Services at Texas Children's Hospital
Content
Child Neurology Outpatient Clinics: Residents rotating in outpatient clinic months can design their clinic schedule to best meet their interests and learning needs. Residents may attend general child neurology clinics as well as various subspecialty clinics to include Epilepsy, Movement Disorders, Headache, Cerebral Palsy, Tuberous Sclerosis, Sleep Medicine, and many others. View further descriptions of subspecialty clinical services.
Adult Neurology Outpatient Clinics: Second-year residents have individual block rotations in Neuromuscular Disease, Movement Disorders, and Multiple Sclerosis, respectively. While the resident is principally based in the related adult neurology clinic, on selected days, they attend the related pediatric subspecialty clinic at Texas Children's Hospital. For example, during the block of Multiple Sclerosis Clinic, the resident works with adult MS specialists at the Baylor Clinic each day except on Wednesday afternoons, when they come to the Pediatric Multiple Sclerosis Clinic at Texas Children's Hospital to see pediatric patients with this condition and other neuroimmunological diseases, working with Child Neurology faculty with clinical expertise in this area.  This integrated approach provides the resident with education in the full spectrum of related conditions across the lifespan as well as aspects of transition for chronic conditions that begin in pediatrics.
Electives: Along with an elective block in their second year of training, residents have a large number of elective opportunities in their third year of training. Such electives can include a mixture of activities or focused in a specific area. Electives can also be used for quality improvement and research projects. View descriptions of subspecialty clinical services that residents might include in their elective.
Heading
Residents Having Fun at Work
Content
 (Photos below were taken prior to COVID-19 pandemic)
Media Component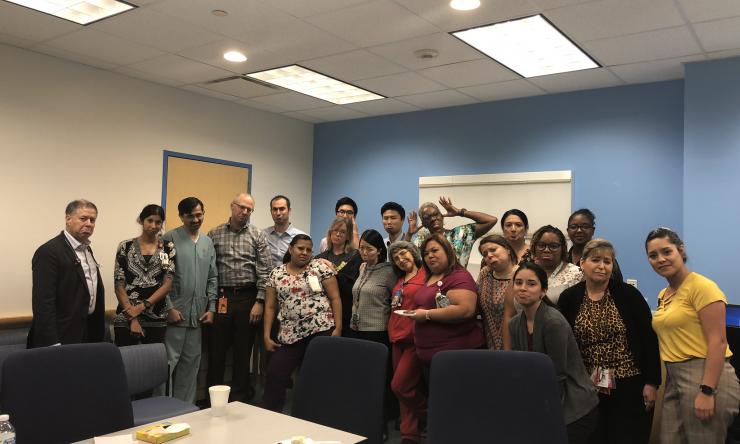 Media Component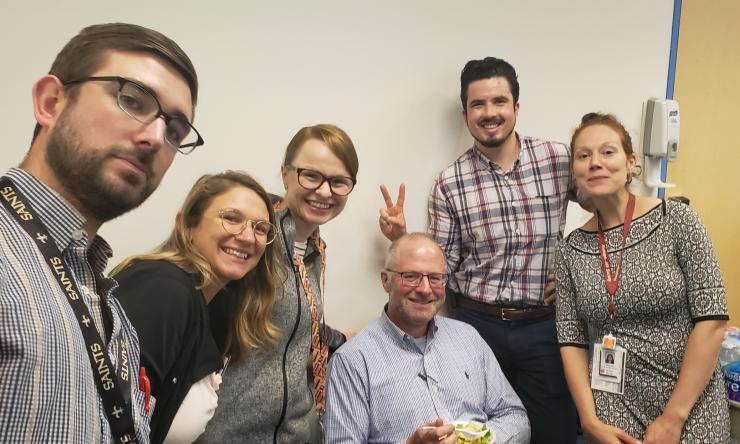 Media Component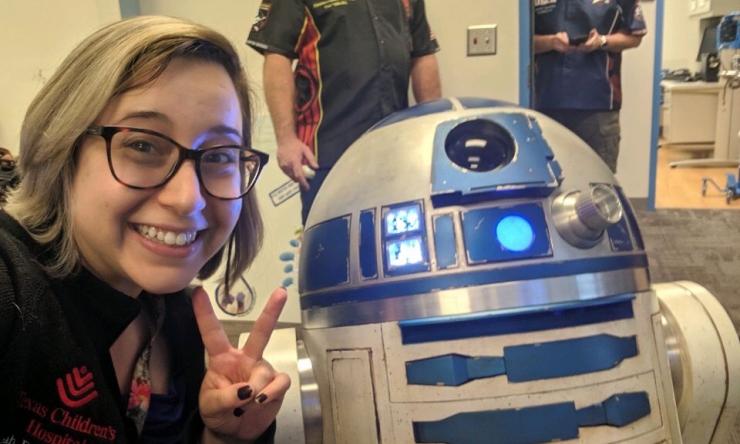 Media Component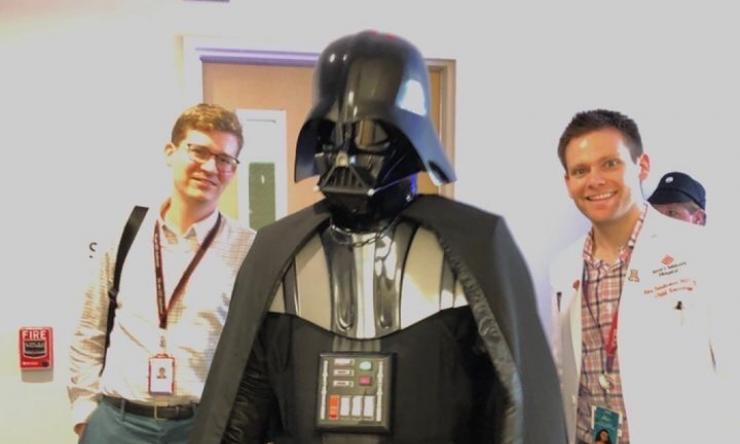 Media Component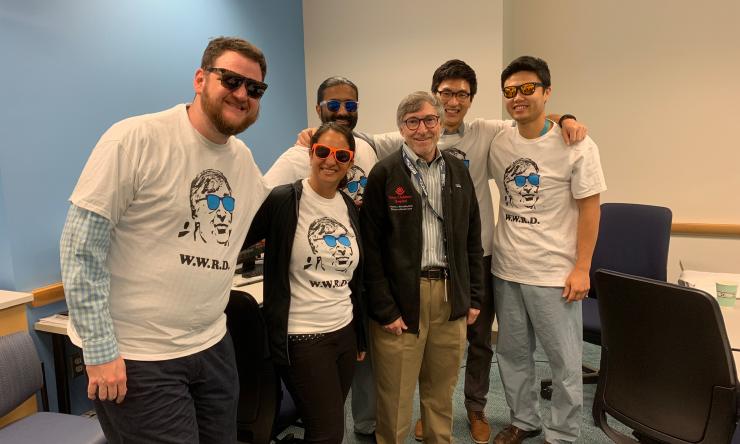 Media Component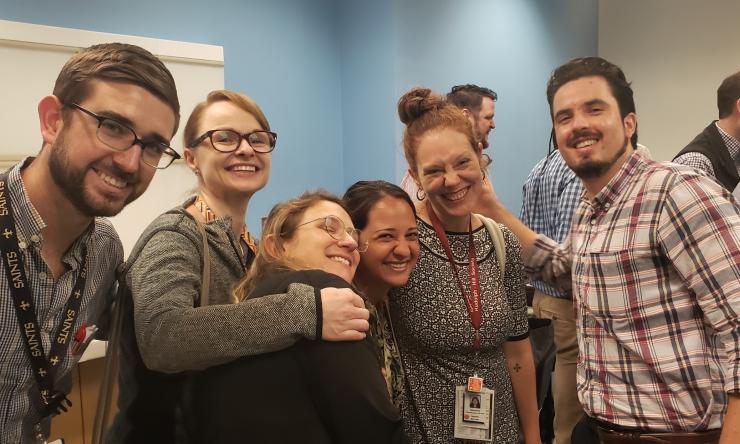 Media Component