Master
Media Component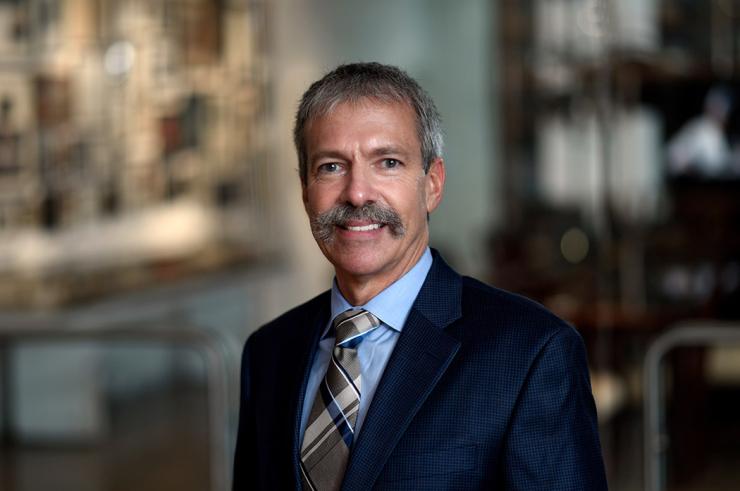 Content
Welcome to the Menninger Department of Psychiatry and Behavioral Sciences. It is a privilege to serve as chair of this outstanding department, a center of learning, of wide-ranging expert clinical care, and pioneering research. When assuming the role of chair in September 2016, I had big shoes to fill. My predecessor, Dr. Stuart Yudofsky led this department for nearly a quarter of a century and established its national prominence. My starting point was a strong foundation on which I could build additional programs for clinical care, education and research. I also inherited other resources, most notably, numerous talented faculty members dedicated to patients of all ages burdened by mental illness and substance use disorders.
One of the virtues of life in Houston is the tremendous racial/ethnic and cultural diversity of the city. Similarly, through our affiliates, learners and faculty have an opportunity to care for patients from varied backgrounds and a wide range of challenging conditions. Allow me to provide a brief introduction to our affiliates and our activities at our Baylor College of Medicine sites.
Harris Health System is the only safety net hospital in Houston, and provides care to all underinsured and uninsured. It provides community-based clinical, learning and research opportunities in its dedicated psychiatry emergency room, inpatient unit, and the city's only Med/Surg Psych unit. In addition, Harris Health system is the city's largest provider of outpatient psychiatric services. Recently with the addition of its Global Mental Health Division, it has expanded its services for refugees, and human trafficking victims. It is a major and highly valued clinical training site.
The Baylor Psychiatric Clinic provides a full spectrum of evidence-based psychopharmacological and psychotherapeutic treatments for a wide array of mental health disorders. The Jamail location is the primary ambulatory training site for the department's psychiatry residents and psychology interns. It also houses multiple specialty clinics including Mood & Anxiety Disorders, OCD, Geriatrics and Substance Use Disorders. Our Greenpark site is home to our Neuropsychiatry Division and Interventional Psychiatry programs including TMS. Baylor St. Luke's Medical Center offers a robust Consult-Liaison program.
Through its Mental Health Care Line, the Michael E. DeBakey VA Medical Center (MEDVAMC) cares for approximately 40,000 veterans per year and provides critical infrastructure for training and research. In addition to community-based treatment programs, emergency care, outpatient general mental health, subspecialty programs in PTSD, Substance Use Disorders, Neurostimulation, and a 73-bed Inpatient Service, MHCL clinicians are integrated into primary care. Approximately 200 MHCL employees, including all psychiatrists and psychologists, are BCM Psychiatry faculty. The MEDVAMC is also the primary training site for the BCM Fellowships in Addictions Psychiatry, Consult-Liaison Psychiatry, Geriatric Psychiatry, and Neuropsychiatry.
The Menninger Clinic is the department's private teaching hospital, a landmark institution that relocated from Topeka, Kansas to Houston in 2003, to become a major affiliate of Baylor College of Medicine. It is consistently ranked among the top five psychiatric hospitals in the nation and is located on a beautiful 50-acre campus. Menninger is best known for providing intensive, long-term, team-based, inpatient treatment – a unique teaching opportunity for residents. It is also in the process of expanding its continuum of care to include other levels of care.
The Child Psychiatry Section at Texas Children's Hospital, the #4 Ranked pediatric hospital, provides services to ~5000 patients annually for a wide variety of mental health disorders affecting children and adolescents. It delivers services within the hospital as well as within ambulatory clinics, integrated care clinics, tele-psychiatry clinics into school, and tele-therapy into patient's homes. Texas Children's provides substantial support to our child and adolescent psychiatry fellowship with a comprehensive educational portfolio and faculty committed to providing excellent one-one mentorship and teaching.
Since 2016, the Psychology Division has expanded and now includes more than 100 psychologists with a wide array of clinical, research, and educational expertise. Research is a prominent focus of the division, which boasts numerous federally funded, foundation funded and investigator-initiated projects focusing on intervention, psychopathology, health services research, and innovative methods of service delivery. Training is a central feature including two APA accredited predoctoral internship programs, multiple postdoctoral fellowships, and multiple other trainees. The strong integration of psychiatry and psychology faculty allow us to offer the latest evidence-based behavioral, psychotherapy, pharmacological and device interventions by expert clinicians schooled in a range of disciplines.
The department has forged new linkages with other centers of excellence within Baylor College of Medicine, including Genetics, Neurosurgery, Radiology and Neurology. Additionally, we have established collaborations with engineers at Rice and elsewhere in the areas of machine learning and neurotechnology. Our translational research programs span the full range from bench to bedside to real world practice. For example, our interventions research involves early- to late-phase pharmacological studies, novel non-invasive devices, innovative cognitive-behavioral therapies, and health services research targeting mood and anxiety disorders, OCD, PTSD, schizophrenia, bipolar disorder and SUDs. The field of neuromodulation is growing at a tremendous pace and the department is at the forefront in applying both non-invasive and neurosurgical approaches to treating neuropsychiatric disorders. We are also making a major investment in functional neuroimaging as a tool to understanding the neurocircuitry of these disorders.
We envision a time when clinicians will assess patients using a combination of biomarkers and clinical indicators to tailor treatments that prevent, cure, or alter the course of psychiatric illness. Despite significant advances in pharmacological, psychosocial and device based therapies, unmet needs remain for some of the most challenging conditions. The full payoff of these research programs may be years away, but we are already investigating the role of genetics, brain imaging and machine learning in delivering personalized psychiatric care to our patients.
Our mission is to improve the lives of individuals with mental and substance use disorders through the integration of outstanding clinical care, education, and research. We are committed to enhancing behavioral health services at the community, national and global levels. We will educate the next generation of clinicians and researchers, equipping them with the latest tools and the capacity for life-long learning. Together we will make a difference that impacts the science and treatment of psychiatric disorders.
Wayne K. Goodman, M.D.
D.C. and Irene Ellwood Professor and Chair
Menninger Department of Psychiatry and Behavioral Sciences