Master
Media Component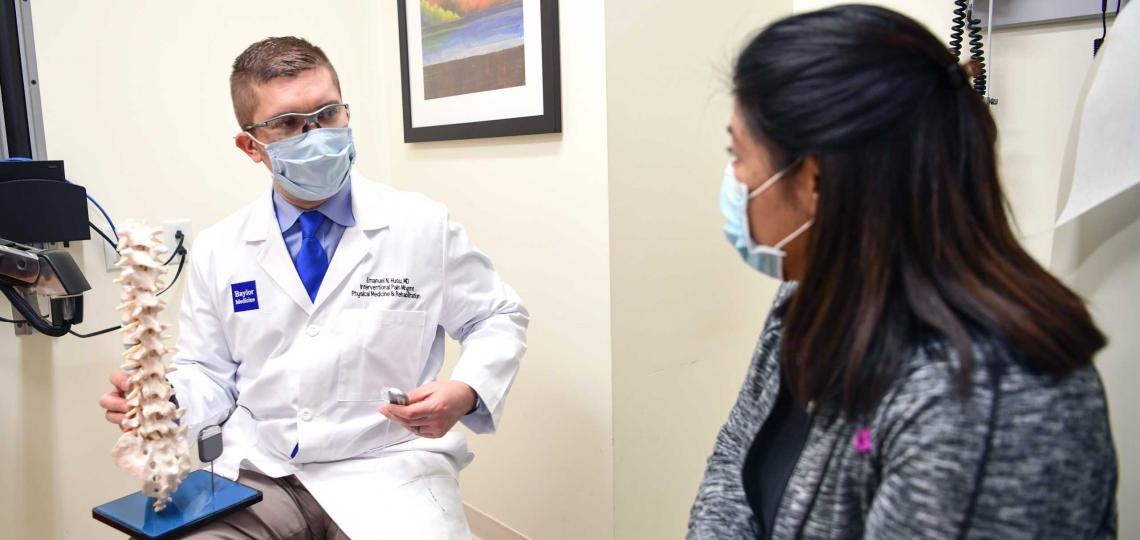 Heading
About the Baylor Medicine Spine Center
Content
The Baylor Medicine Spine Center provides the full continuum of care for patients experiencing back and neck pain - from the common to the most complex. From diagnosis to the latest in evidence-based treatment options, our team of spine experts is committed to improving your quality of life through care tailored to your specific spinal condition.
Content
The Spine Center has same-day and next-day appointments available! Don't go another day with back or neck pain. Call 713-798-2225 bto book an appointment with one of our spine specialists.
Heading
Request a callback
Content
For non-urgent matters request an appointment with one of our spine specialists using the online form.
Heading
Comprehensive Spine Care
Content
You deserve care that's unique to your needs. At the Baylor Medicine Spine Center, we create a treatment plan that draws from our professional experience, our collaborative nature, and our motivation to drive medical advancements. As a Baylor Medicine patient, you'll have access to exclusive clinical trials, the latest spine procedures, and the brightest minds in medicine—all working together to provide you with more options and the best results.
At the Spine Center, we are dedicated to empowering patients by not only addressing physical wellbeing but also their mental and emotional well-being. As a patient, you can expect your care team will:
Use state of the art imaging and diagnostic tools
Work with you to develop an individualized treatment plan
Establish prevention protocols to inhibit further damage or pain
Arrange outpatient or inpatient rehabilitation services
Provide access to the latest in spine and pain treatments including clinical trials
Be available for second-opinion consultations
Consider your emotional and mental well being and provide access to behavioral treatment and psychotherapy specialists
Use telehealth to deliver care when and where appropriate for your safety and convenience
Heading
Conditions Treated
Content
We treat the varied and complex problems associated with the neck and back.
Spine Conditions
Heading
Services and Treatments
Content
Rest assured that when you seek care at Baylor Medicine's Spine Center, you'll have access to the most advanced, evidence-based surgical and non-surgical treatments available.
Spine Treatments
Content
Through Baylor College of Medicine, Baylor Medicine patients can participate in clinical trials giving participants access to the latest, most comprehensive diagnostic and treatment options.
View Clinical Trials