Master
Media Component
Credit
Healthwise, Incorporated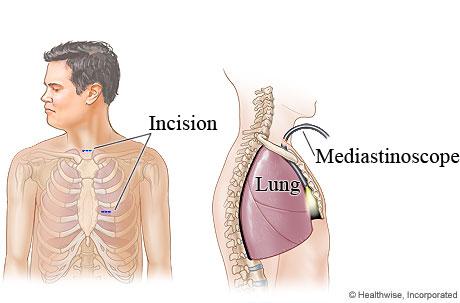 Content
Evaluation of the mediastinum (area in the middle of the chest separating the lungs) and lymph nodes is necessary for staging and planning surgery. The procedure is performed after chest x-ray, CT scan, and pulmonary function tests are performed.
A small incision is made at the nape of the patient's neck exposing the trachea. A space is made along the outside of the trachea and the scope is inserted downward along the trachea.
The mediastinum is inspected by direct vision using the scope. The surgeon will biopsy lymph nodes in the area.
A small video camera is sometimes attached to the scope so the surgeon can view the area on a large screen.
Once the surgeon has completed the mediastinoscopy, the muscles and skin of the patient's neck are closed with sutures .
Content
Patients usually go home in a day if cervical mediastinoscopy was the only procedure performed. Patients may shower the next day. Medicine such as anticoagulants and aspirin should be avoided for about three days after the procedure.
Content
Sugarbaker DJ, Bueno R, Krasna MJ, Mentzer SJ, Zellos L (eds). Adult Chest Surgery. New York: The McGraw-Hill Company, 2009.
Carlens E. Mediastinoscopy: a method for inspection and tissue biopsy in the superior mediastinum. Dis Chest. 36:343–52, 1959.
Passlick B. Initial surgical staging of lung cancer. Lung Cancer. 42:S21–5, 2003.
Rau B, Hunerbein M, Below C, Schlag PM. Video-assisted thoracic surgery: Staging and management of thoracic tumors. Surg Endosc. 12:133–6, 1998.
Stamatis G, Fechner S, Hillejan L, et al. Repeat mediastinoscopy as a restaging procedure. Pneumologie. 59:862–6, 2005.