Grant funds chemotherapy-free breast cancer therapy research
Media Component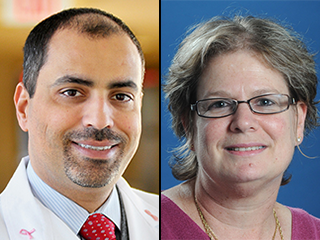 Content
Historically, HER2-positive breast cancer has been most commonly treated with anti-HER2 agents in combination with aggressive chemotherapy. Because of the high expression of HER2, present in about 15 to 20 percent of breast cancers, and the distressing side effects of chemotherapy, researchers have been working to develop effective treatments for HER2-positive breast cancers without chemotherapy. A new grant to Baylor College of Medicine from the Department of Defense advances these efforts.
The DOD's Breast Cancer Research Program grant to Dr. Mothaffar Rimawi and Dr. Rachel Schiff will support the development of a molecular classifier to select appropriate patients with HER2-positive cancers and test it in a clinical trial to determine which patients can safely omit chemotherapy, a strategy termed de-escalation. In addition, this project will identify new mechanisms of resistance to anti-HER2 therapies and new treatment strategies to prevent or overcome resistance.
"Previous research and clinical trials show us that about 20 to 30 percent of women with HER2-positive breast cancer experienced complete tumor disappearance, or pathologic complete response, using a dual anti-HER2 therapy without chemotherapy before they have breast surgery to remove the tumor," said Rimawi, associate professor and medical director of the Lester and Sue Smith Breast Center, part of the NCI-designated Dan L Duncan Comprehensive Cancer Center at Baylor, and principal investigator on the grant. "Our goal now is to find a way to identify the women who can be spared chemotherapy up front."
Shiff, the partnering principal investigator and associate professor in the Lester and Sue Smith Breast Center at Baylor, explained the three key aims of the four-year, $4 million Breakthrough Level 3 grant:
• Develop, through the analysis of unique groups of tumor samples obtained from previous clinical trials of non-chemotherapy HER2-targeted treatments, a molecular classifier to identify patients whose tumors can be safely treated with the anti-HER2 targeted therapy alone.
• Identify additional genes and pathways associated with treatment resistance.
• Conduct a next-generation randomized clinical trial employing a 'molecular triage' approach to de-escalate therapy.
In order to accomplish these aims, Rimawi and Schiff have assembled a uniquely qualified, international research team to develop a novel research strategy. The team hopes accomplishing these aims will advance scientific discovery and the ability to predict resistance and tailor treatment strategies, thereby impacting the standard of care for HER2-positive breast cancer within a few years.
"With chemotherapy comes a range of side effects, potentially serious toxicity and significant financial cost. The impact of sparing a patient from going through the stress of these adverse effects can be profound," Rimawi said. "We hope that the understanding we gain through this project will allow us to provide alternative treatment options to chemotherapy for roughly one-third of HER2-positive breast cancer patients."
The project will build on previous research and ongoing translational efforts at Baylor and the Breast Center.
"The Lester and Sue Smith Breast Center at Baylor has long been a global leader in HER2 research, and through this grant, we are continuing pioneering work in the de-escalation of chemotherapy and the development of multi-targeted drug therapies," said Dr. Kent Osborne, director of the Dan L Duncan Comprehensive Cancer Center at Baylor.
"With an overall focus in the Cancer Center to expand clinical trial options, it is exciting to see a research project that will directly impact patient care, moving the research from bench to bedside. It is very possible that many patients with this aggressive subtype of breast cancer can be treated for a few months with drugs that block HER2 and have very few side effects," Osborne added.
Other contributors to this work include Susan Hilsenbeck, Carolina Gutierrez, Chandandeep Nagi and Kenneth Scott, all from Baylor College of Medicine, Aleix Prat from the Hospital Clinic of Barcelona and Institut d'Investigacions Biomèdiques August Pi i Sunyer, Spain, Jorge Reis-Filho and Ronglai Shen with Memorial Sloan Kettering Cancer Center, and Roisin Connolly and Ben Park with Johns Hopkins University. Jane Marmion and Susan Rafte served as advocates on behalf of Baylor.