Master
Media Component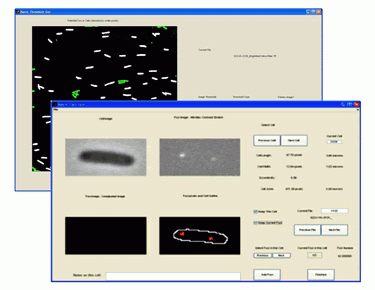 Content
FocusCounter is a Matlab based program designed to analyze the number, position and intensity of fluorescent foci in bacterial cells. It was developed to enable high throughput analysis, with computer-assisted user validation of every cell and focus. FocusCounter is based on the open-source program CellProfiler. FocusCounter is free and may be redistributed freely under the terms of the GNU General Public Licence. Users may cite: Joshi MC, Magnan D, Montminy TP, Lies M, Stepankiw N, Bates D. PLoS Genet. 2013; 9(8):e1003673. Funding was provided by NIH GM102679 to D.B.
Heading
Downloading the Program
Content
FocusCounter is currently only compatible with 32-bit PC Windows XP systems, and must be running either the full version MATLAB R2006a, or the free standalone version MATLAB Compiler Runtime 7.5 (available by mail upon request or through one of several free sources on the web). Detailed instructions for using FocusCounter are provided in the User Manual. A tutorial is being developed, and new versions of FocusCounter will soon be available.
Download the User Manual (.doc)