Master
Media Component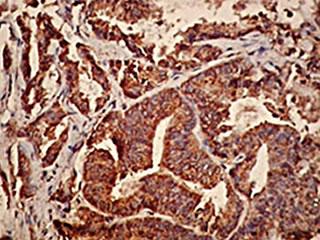 Content
Recent studies in our laboratory have shown that a germline polymorphism of the FGFR-4 gene resulting in expression of arginine at codon 388 (Arg388 ) is associated with prostate cancer incidence and the occurrence of aggressive disease. The FGFR-4 genotype of men undergoing radical prostatectomy and controls of the same race was determined and the genotype correlated with clinical and pathological parameters. The presence of the FGFR-4 Arg388 allele is strongly associated with the occurrence of prostate cancer in white men and is also correlated with both increased pathological stage and the occurrence of pelvic lymph node metastasis in men undergoing radical prostatectomy. Expression of FGFR-4 Arg388 in immortalized prostatic epithelial cells results in increased cell motility and invasion through Matrigel when compared to cells expressing the FGFR-4 Gly388 allele. Thus, presence of the FGFR-4 Arg388 allele is associated with both an increased incidence and clinical aggressiveness of prostate cancer and results in increased cellular motility and invasiveness in immortalized prostate epithelial cells.
Content
Directly testing the ability of the FGFR-4 Arg388 allele to promote metastasis in vivo using transgenic and orthotopic mouse models of prostate cancer
Determination of the mechanism by which the FGFR-4 Arg388 allele promotes increased motility and metastasis
Confirming the role of the FGFR-4 Arg388 allele in prostate cancer incidence in a prospective trial and analysis of its impact on patient outcome in men treated with radiation therapy or watchful waiting
Heading
Related Publications
Content
Wang J, Stockton D, and Ittmann M. 2004. The FGFR-4 Arg388 allele is associated with prostate cancer initiation and progression. Clin Cancer Res. 10: 6169-6178.
Ropiquet F, Giri D, Kwabi-Addo, B, Mansukhani A, and Ittmann M. 2000. Increased expression of fibroblast growth factor 6 in human prostatic intraepithelial neoplasia and prostate cancer. Cancer Res. 60: 4245-4250.