Master
Content
Recombineering technology allows for the precise genetic manipulation of bacterial chromosomes. Using single-stranded DNA (ssDNA) recombineering technology point mutations, small deletions, and small insertions can be recovered without the need for selection. Previous to our recent work, non-selected ssDNA recombineering could only be performed in Escherichia coli. We have now established non-selected recombineering in two lactic acid bacteria strains, Lactobacillus reuteri and Lactococcus lactis. We also have shown that recombineering can function in other Gram-positive bacteria as well. We can achieve average recombineering efficiencies of ~15% in L. lactis, which will now enable directed evolution of multiple chromosomal sites to be achieved simultaneously. Finally, we have also developed an efficient method for inserting genes stably into the chromosome of L. reuteri, which will enable the use of this human-derived organism to be used in the intestinal delivery of biotherapeutics and vaccines.
Media Component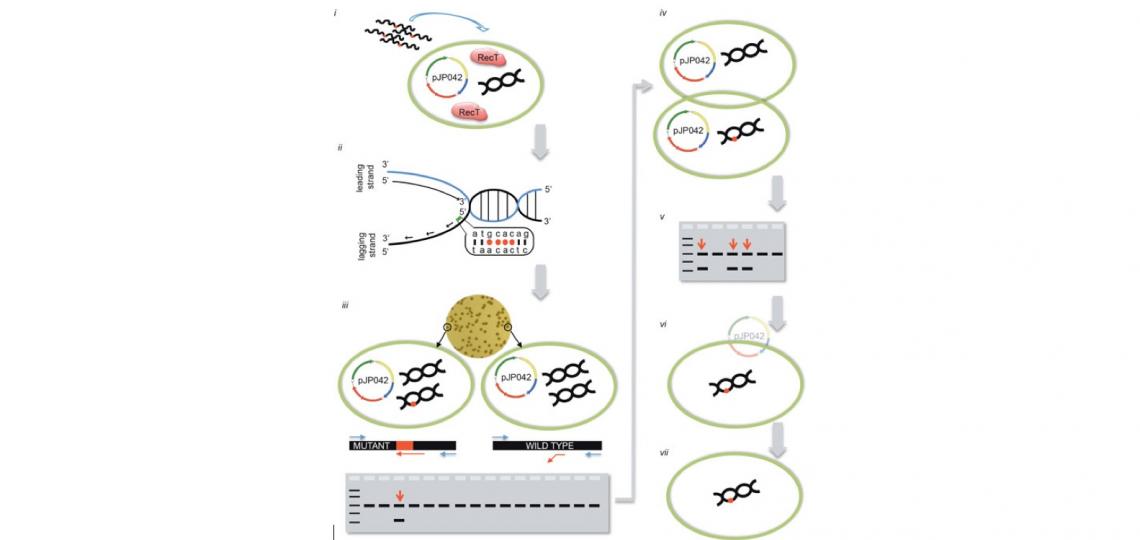 Content
Overview of recombineering in L. reuteri.
Heading
Related Publications
Content
van Pijkeren, JP and Britton RA. (2014). Precision genome engineering in lactic acid bacteria. Microb Cell Fact. Aug 29;13 Suppl 1:S10.
van Pijkeren, JP and Britton RA. (2012). High-efficiency recombineering in lactic acid bacteria. Nucleic Acids Research. 2012 May;40(10):e76. Epub 2012 Feb 10 2012.
van Pijkeren JP, Neoh KM, Sirias D, Findley AS, Britton RA Exploring optimization parameters to increase ssDNA recombineering in Lactococcus lactis and Lactobacillus reuteri. (2012) Bioengineered. 3:209-17.